Military & First Responders Discount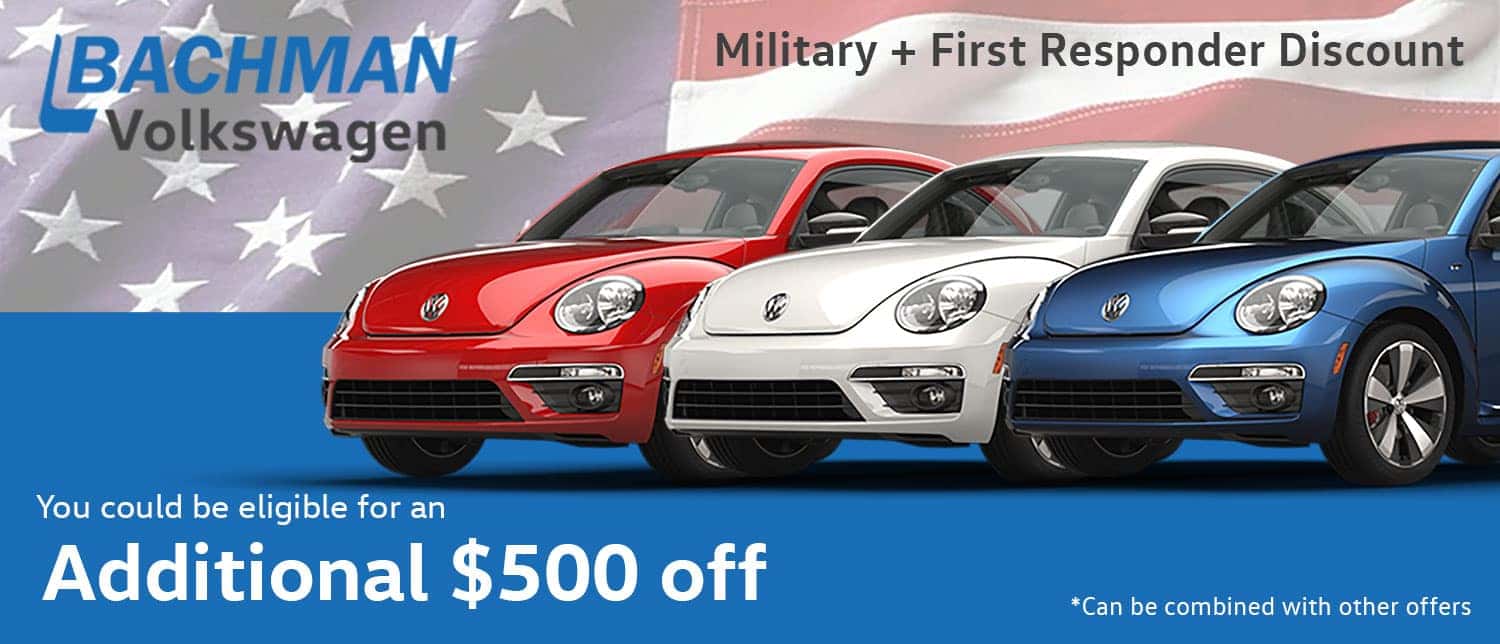 At Bachman Volkswagen, we are proud to extend our military discount to all military members and first responders, as well as their spouses.*
Now, through February 28, 2020, military and first responders, including their spouses, will receive a $500 bonus when they purchase a new 2018 or 2019 Volkswagen. The discount can be combined with our most current incentives. Because those who serve our country and communities deserve a great discount.
Military and First Responders include Air Force, Army, Navy, Marines, National Guard, Coast Guard, Active Reserve, Police Officer, Sheriff/Sheriff's Deputy, Correctional Officer, State Trooper, Federal Law Enforcement Officer, Firefighter, EMT and Paramedics.


SUPPORTING YOUR COURAGE

In addition to offering the Military & First Responders Discount Program, we are proud to support service members and their families in a variety of ways. From athletic programs for wounded veterans to partnerships with nonprofit military organizations and more, Volkswagen and its dealers are honored to give back to the men and women who protect our country.
Bachman Volkswagen works closely with USAA to provide our service men and women the best price available on a new Volkswagen.
Bachman Volkswagen is proud to support all of our Military's Men and Women… We thank you for your service and sacrifice!
*Disclaimer: The following customers and their family household members are eligible the Program:
a. Military:
i) Active Duty U.S. Military (Army, Navy, Air Force, Marines, National Guard, Coast Guard and Active Reserve)
ii) U.S. Military Veterans within 24 months of service.
iii) U.S. Military Retirees
b. First Responders: Police Officer, Sheriff/Sheriff's Deputy, Correctional Officer, State Trooper, Federal Law Enforcement
Officer, Firefighter, EMT, Paramedics